C&I 5 in 1 Nail Drill Bit Super Long Slim Efile Professional Nail Bits Nail Tech Must Have for Extension Nails Acrylic Powder Hard Gel Nail Tip Cuticle Remover Nail Supplies
Regular price
$0.00 USD
Sale price
$26.99 USD
Unit price
per
Couldn't load pickup availability
Availability:
1000 in stock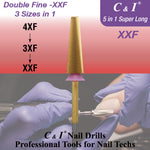 Regular price
$0.00 USD
Sale price
$26.99 USD
Double Fine -XXF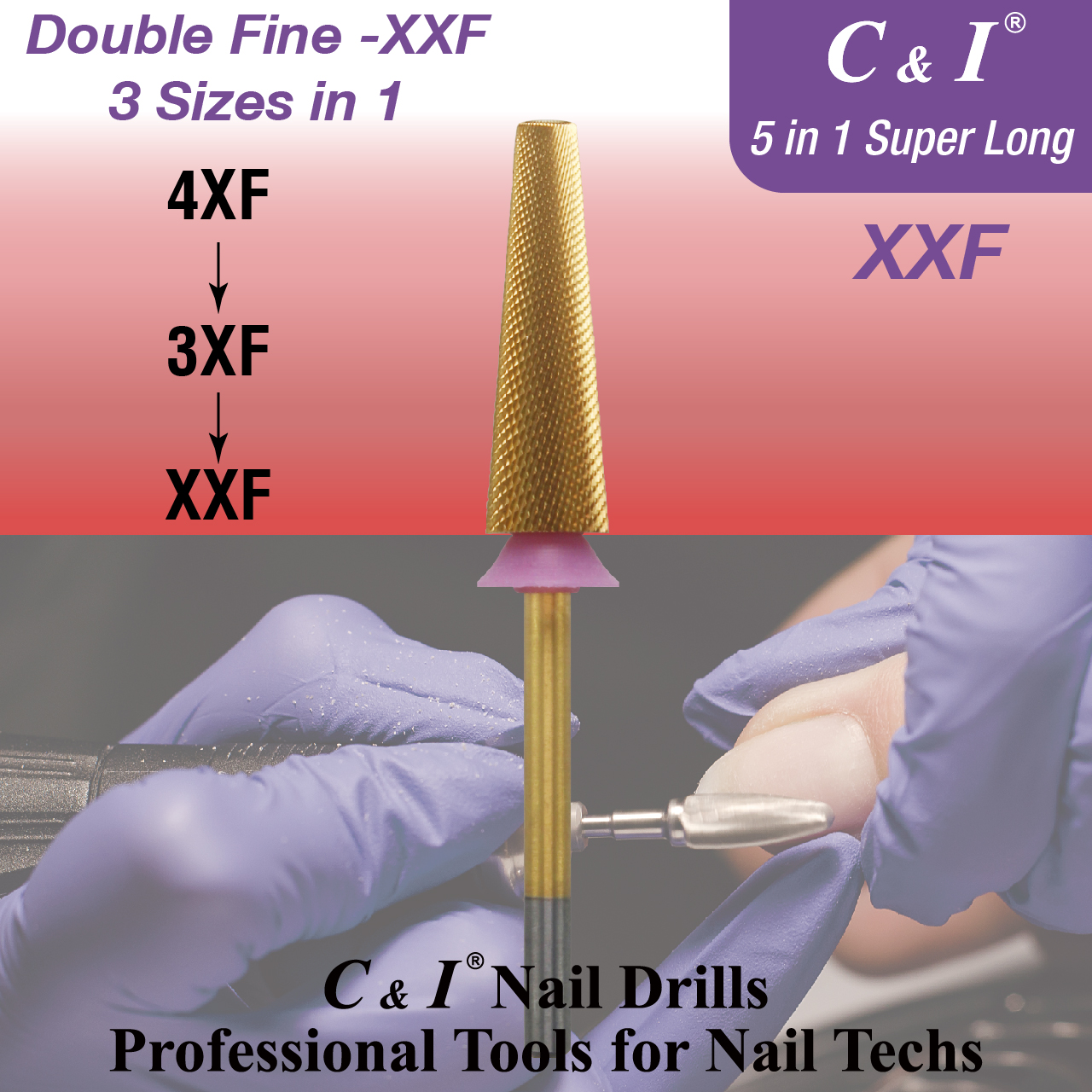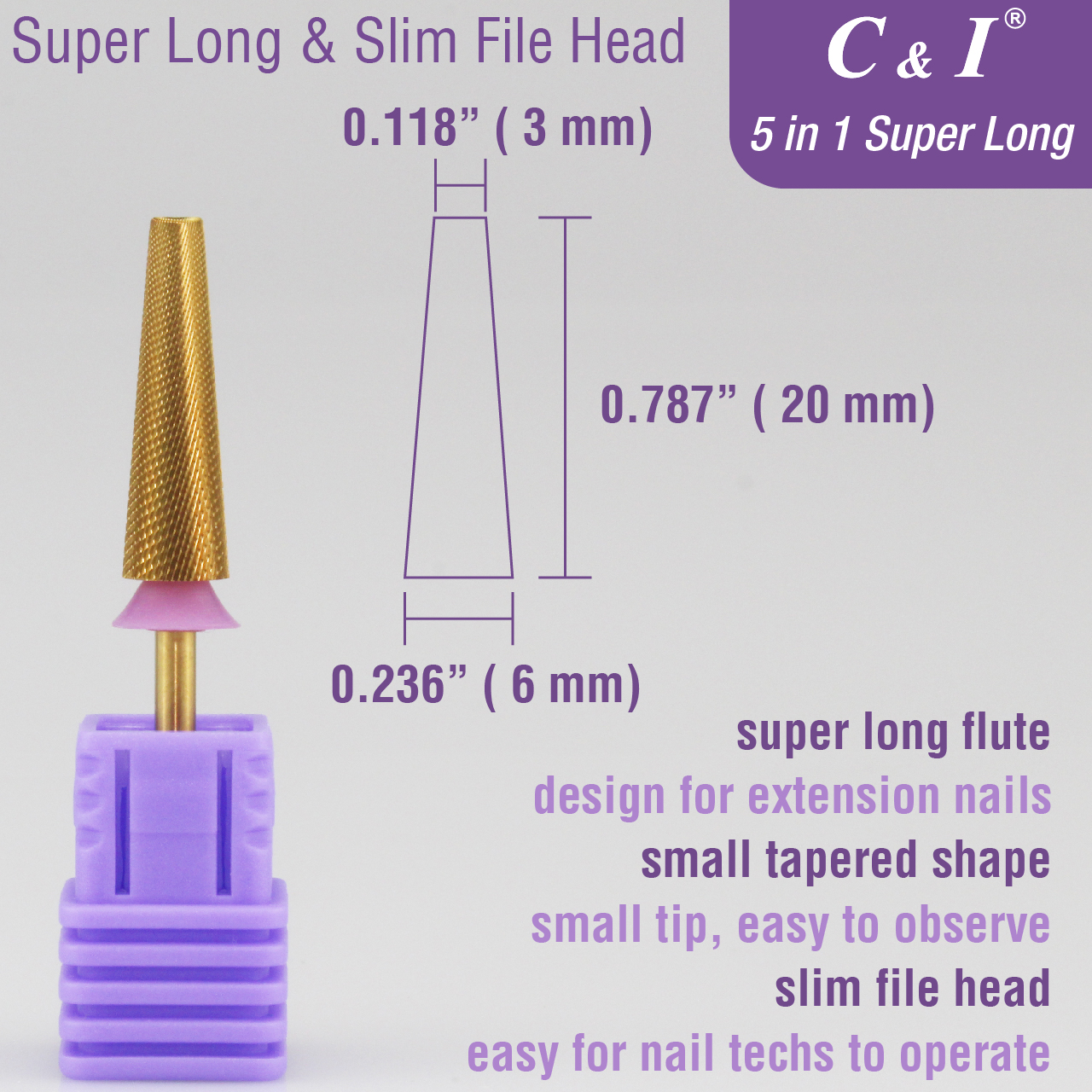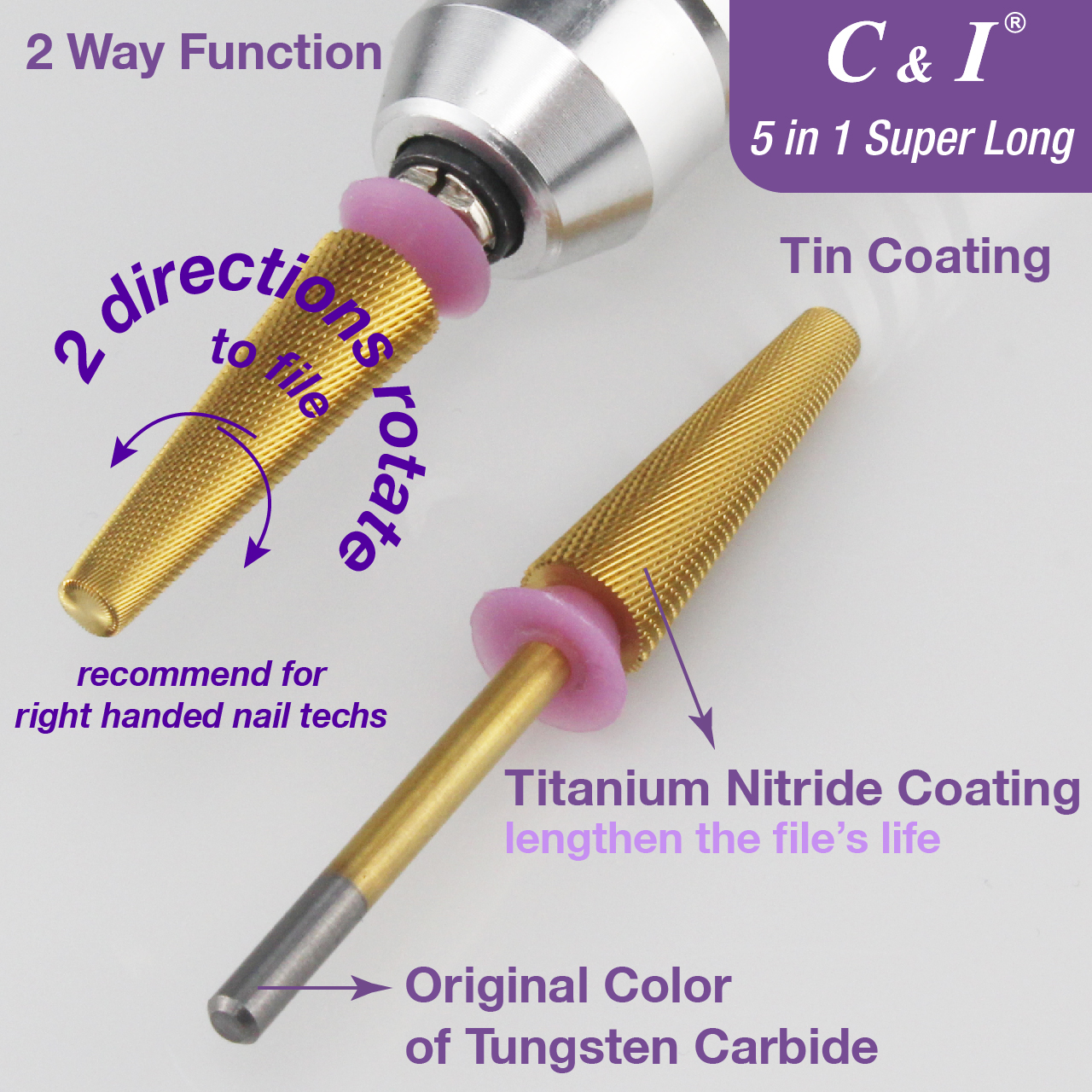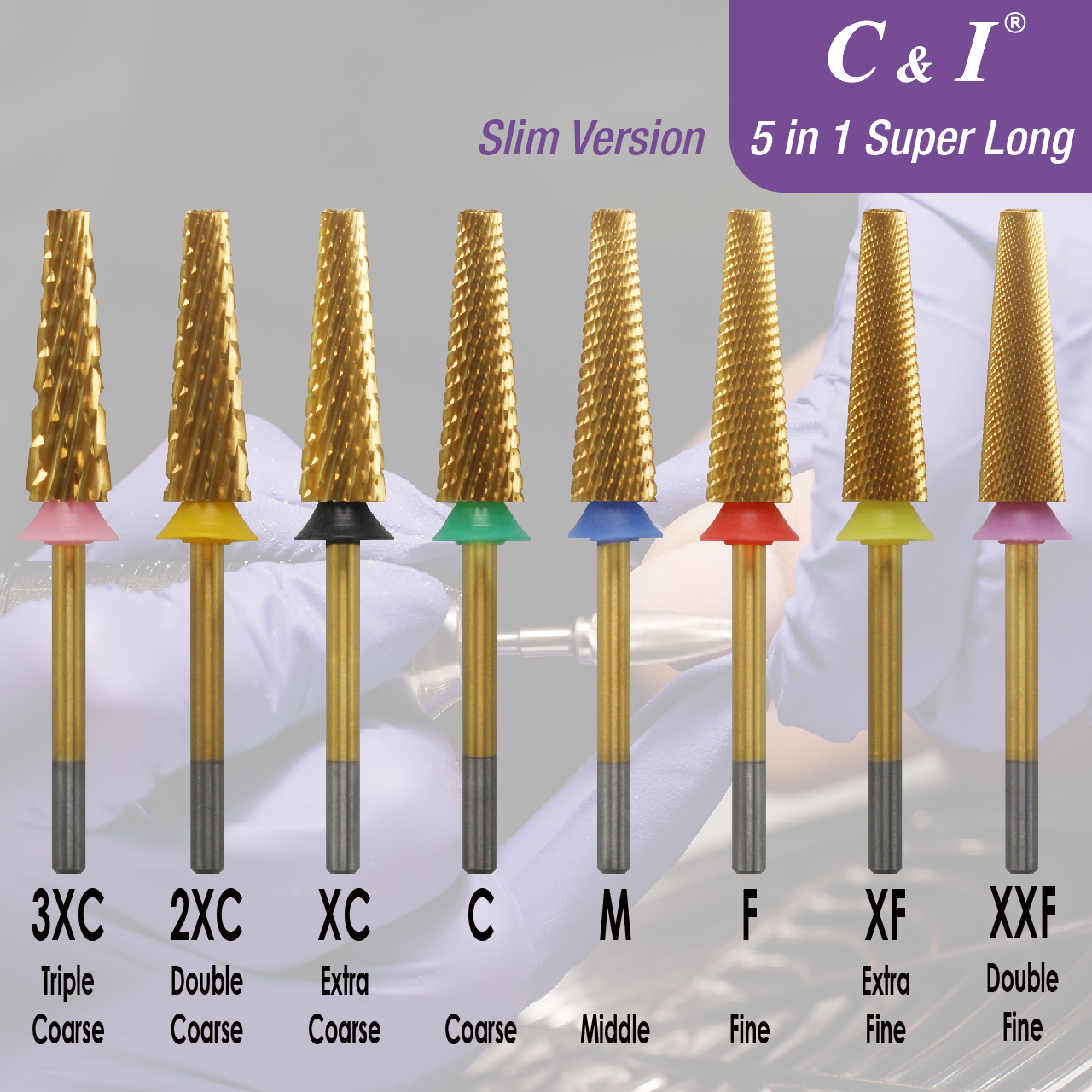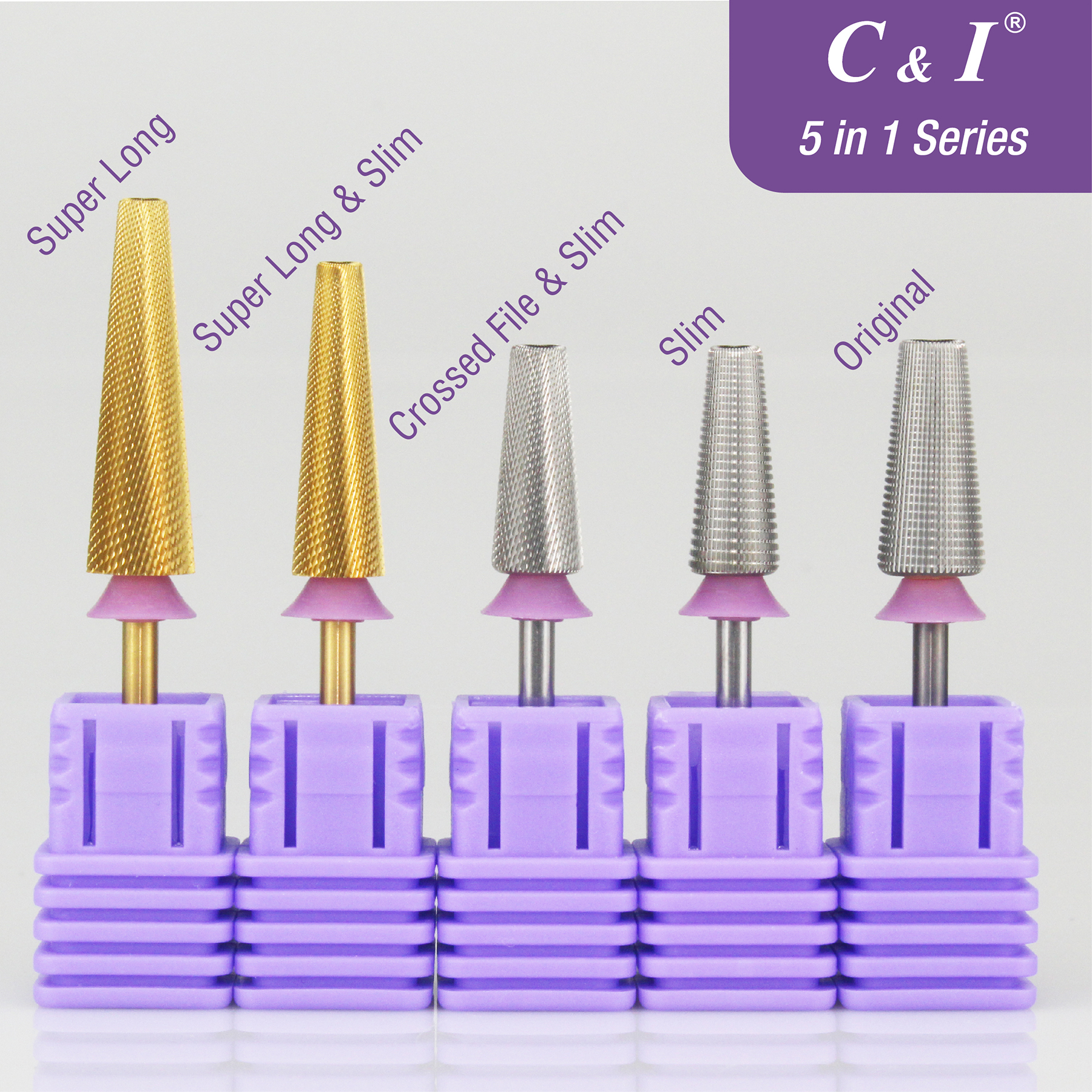 5 in 1 Multi-function Nail Drill Bits: 3 sizes file-teeth in 1 drill bit, Rounded Cut, and 2 Way to file function. An upgrade version from the original 5 in 1 e file. Massive file-teeth sizes for choose. For acrylic gels, UV gels, fake acrylic nails, or other hard gels, recommend size 3XC, XXC, XC or C. For normal nail gels, size M or F could help you. For base gels, remain gels, use size XXF. And size XXF, also could be used as nail buffer for natural nails to do preparation or prep nails.

Special Design -Super Long and Slim File-head: 0.787 inch long, super long flute nail drill. 0.217 inch longer than original 5 in 1 e file. Super long 5 in 1 could be used for extension nails, nail tips, fake acrylic nails, or other gel nails. Slim body, 0.236 inch, easy for nail techs to operate. 

Special Function -3 Sizes in 1: Each 5 in 1 nail bits has 3 sizes file-teeth. From top to bottom of the file head, the sizes are become bigger and bigger. For example, nail drill bit 5 in 1 size XXF, from top to bottom, there are 3 sizes file-teeth, Ultra Fine-4XF, Triple Fine-3XF, and Double Fine-XXF.

Cuticle Remove -Rounded Cut: A cuticle bit, the top corner of the tapered flute is designed to rounded corner with file-teeth. And the file-teeth are extended to the top flat. This area could be used to make cuticle remove, or remove redundant gels.

2 Way Rotate File: The drill bits' file-teeth are crossed cut. The e-file 5 in 1 could rotate both 2 directions to make file. When nail techs operate the drill, could change the rotate direction. We recommend right hand nail techs better to use.

Tungsten Carbide Made. Titanium Nitride Coating, help to extend the life of nail file. Shank: 3/32" (2.35 mm), adapt most of e file machine. Professional nail supplies for nail techs.
Choosing a selection results in a full page refresh.